ASHNIKKO RANSACKS A SUNDAY NIGHT IN SCOTLAND
Ash holds the Glasgow crowd in a headlock on the last night of Demidevil tour.
Published: 16/12/2021 Photos: Kirsty Graham
Author: Eleanor Osada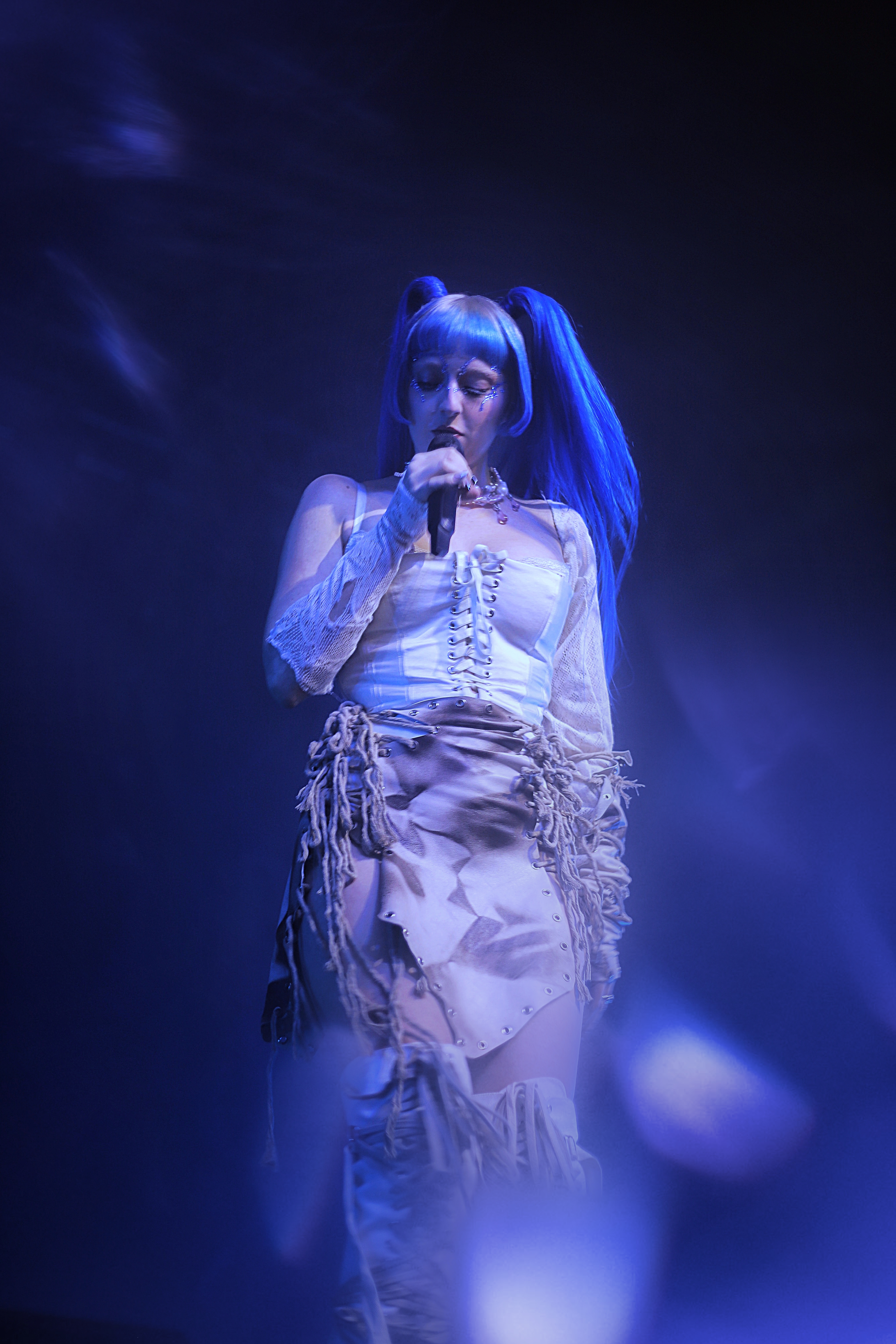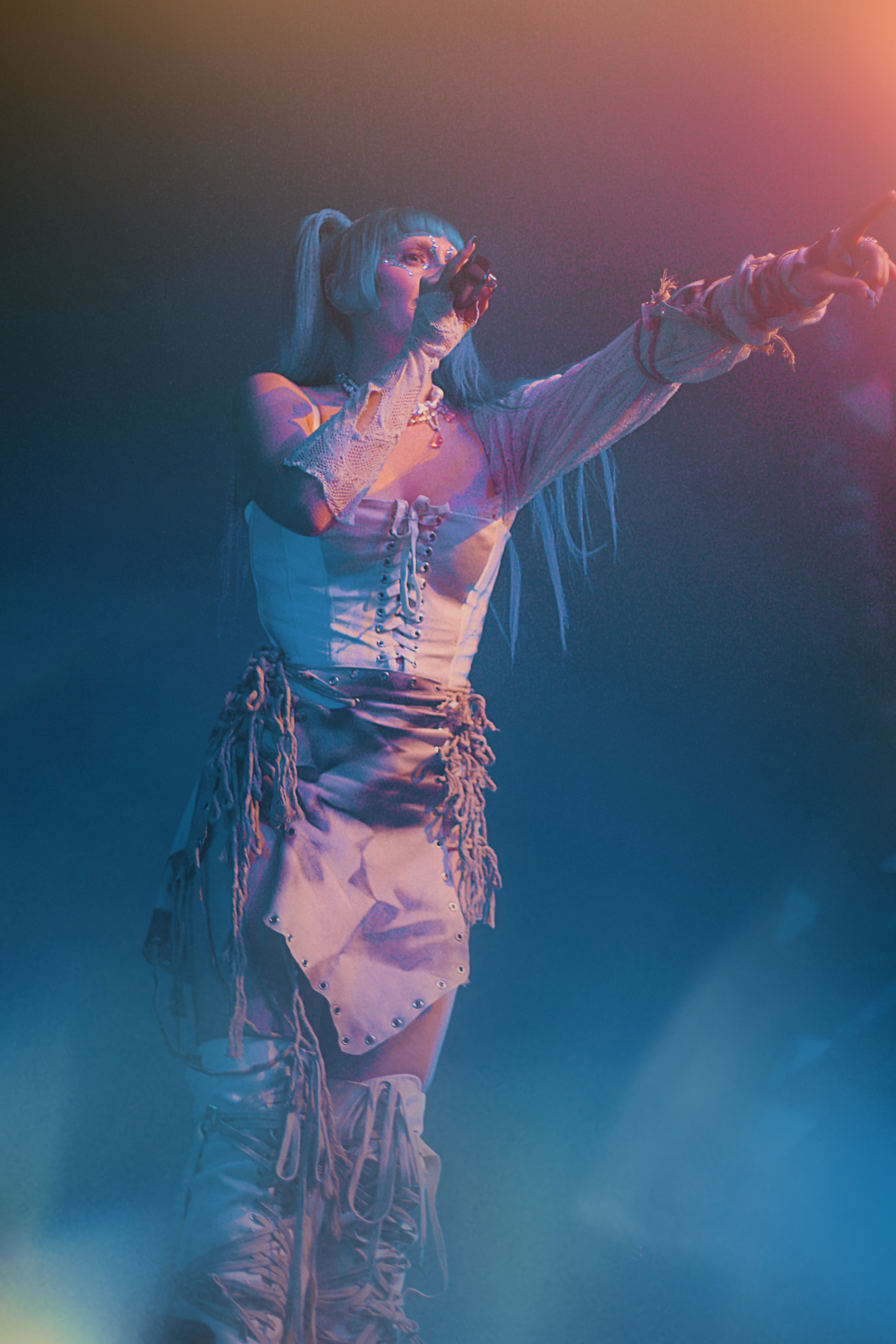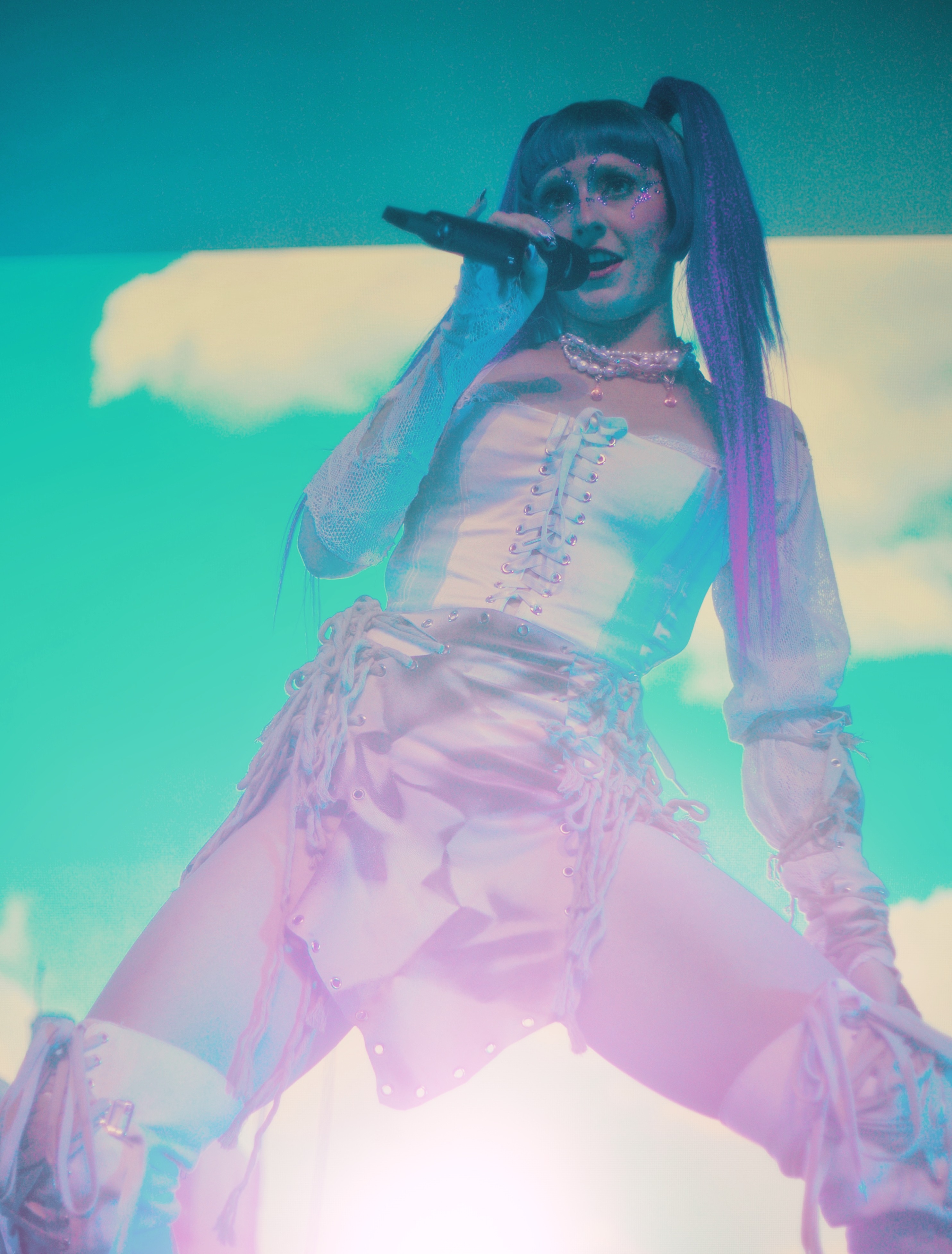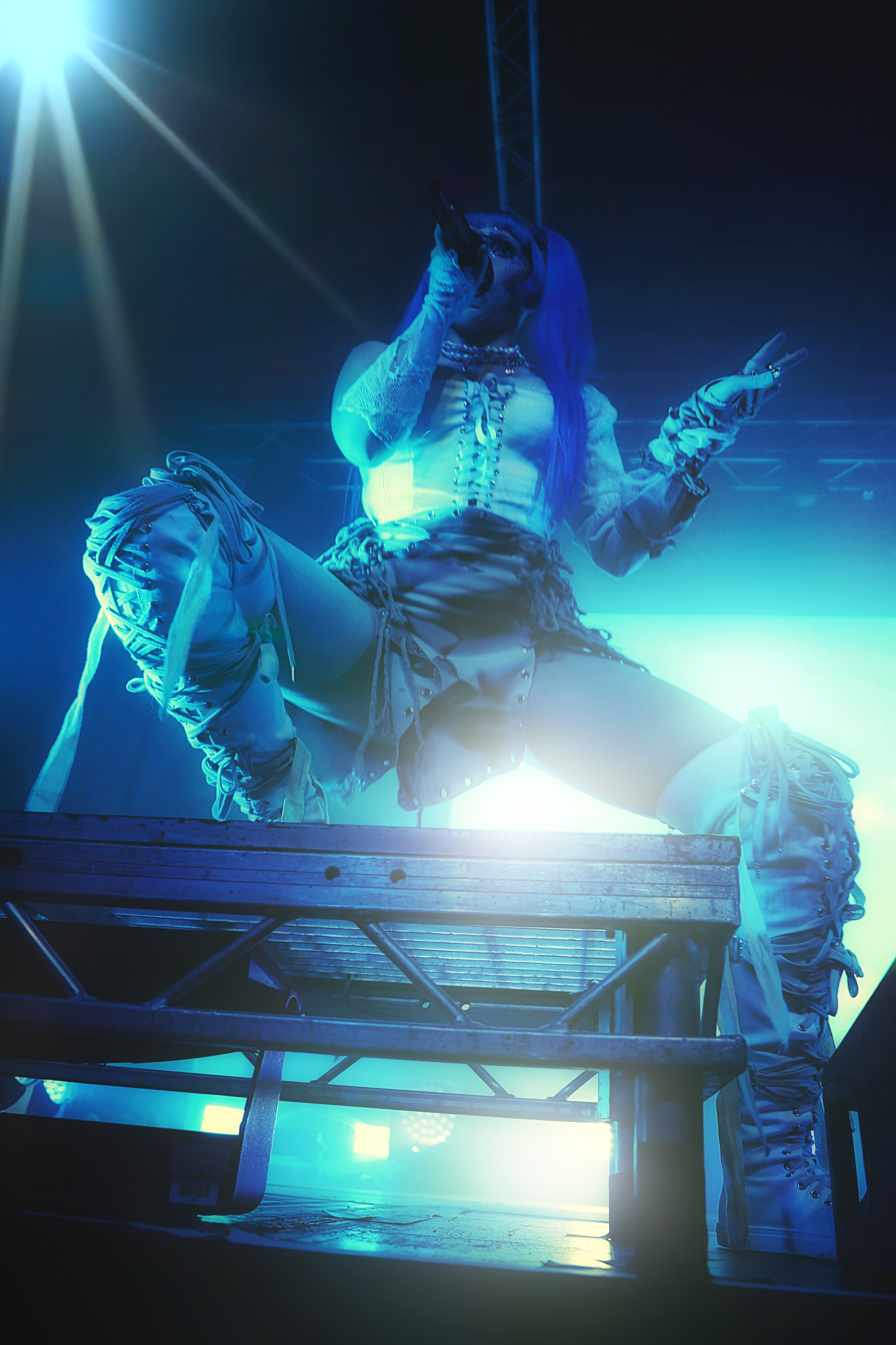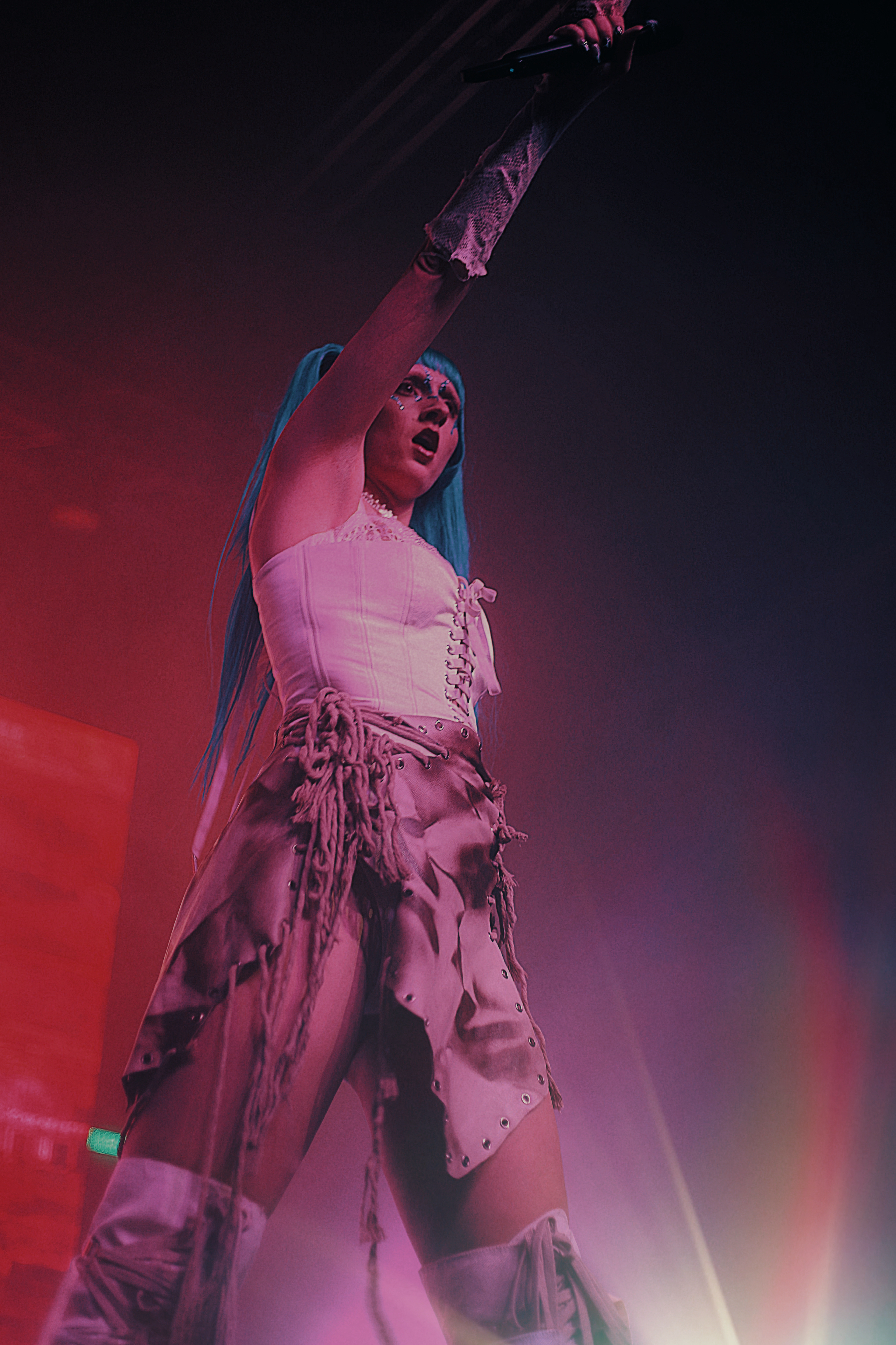 "I was told Glasgow would be wild," alt-pop ghoul, Ashnikko, starts - addressing the roar of the good old Scottish 'here we, here we' chant, "and I'm glad I wasn't let down". It's almost a verbal reward from Glaswegians, given to any performer worth their salt; and they're not holding back tonight.
Launching onto stage sporting electric blue high-bunches, white corset and thigh-highs - as if a character from a pirate-centric anime granted a wish for the night - Ashnikko immediately asserts a domineering presence, fitting for a self-described "night-terror". The darker, more unruly edge of popular music comes out to play, exorcised through a North Carolina born, TikTok-enormified star.
Considering their ultra-conservative upbringing in a Southern state, raised entirely on a musical diet of country and Slipknot, it's obvious what tipped the scales into the freakier, more curious corner of the craft. Moving between the US, later Latvia, and eventually London - entirely on her own at just 18 - it's no wonder that Ashnikko, full name Ashley Nicole Casey, devours the frightening so chaotically. She's embraced the grunge and grime of industrial London, rebelled against traditionalist American roots, and adopted the snarl that the people of a former Soviet country may be assumed to carry. A potent blend, maybe, but there's thrill in the havoc.
Only accompanied onstage by her D.J, centre and back, Ash chokes out their own boisterous brand of punky electro-rap - accented by spooky swagger and undercut by unafraid lyricism, packed with venom and delivered with deliberately obtuse brattiness. You witness one of Ashnikko's shows with almost morbid curiosity - you can't look away. The stage sides are decked with watching eyes - literally - giant, extraterrestrial rows of prop eyes, setting the tone for the night. It's a visual placeholder for a futurist's Halloween: playful and cool, if not a little dystopian.
Outrightly wired and weird, Ashnikko's setlist uncoils a myriad of modern glitches in the personal matrix: limp-dick exes, crushing the patriarchy, and exploring female empowerment, usually by way of sexual expression. Her current biggest hit, "STUPID", sits early in the setlist. "It's quite a divisive song, isn't it?", they once remarked.
The song was a TikTok smash, to say the least, immediately spotlighting Ash as an artist with more tenacity than most in the modern-pop arena. Maybe it was the shoutout to Pornhub, or talk of pussy power, that made the audio so useable for (now more than 2 million) short videos on the app. TikTok's strength is surfacing good artists, and vaulting the 'hyper-relevant' to superstardom with great speed. Gen-Z have an excellent eye and an impressively trained ear, and TikTok is their accidental polling ground. In this instance, Ashnikko was one of the chosen ones. An audience in their millions relished what they were hearing, many longing for more unabashed takes like it.
"I'm a tough bitch, but I'm sensitive," Ash sneers, performing mega-hit "Daisy". The crowd are vocal in response, obviously knowing songs front to back. It would be easy to believe that she's a long-established artist, with a crowd this involved. At one point, she picks up a pride flag and wraps it round her shoulders, and she's met with more noise. An obviously dedicated fanbase, a lot of Ashnikko's fans actually bear some resemblance to her, playing on the fun, caractural nature of her appearance. It's all welcomed: there's already
an explorable virtual world
with customisable avatars, all of which look like a variant of Ashnikko, right down to the neon head of hair and neo-gothic street fashion. Blurring the lines between fantasy, cyberspace, and reality feels only ceremonial for an artist that taps into the phantasmic qualities of the future, as well as the sinister truths of the present day.
Other setlist highlights include album track "L8r Boi", a ballsy, modern-feminist flip of Avril Lavigne's 2000s hit, "Sk8r Boi", and single "Halloweenie IV: Innards", that samples "In the Hall of the Mountain King" into a trap-led, gore-heavy bopper. It's exactly as wild as it sounds, but as evidenced, Ashnikko pulls from all sorts of directions: genre simply isn't an issue.
There's some magnetism to Ashnikko's off-kilter melody and uneasy beats, a strange kind of draw that makes listening feel adulterous. Their stage presence, while near enough alone up there, is bedevilling - a cyberpunk iconoclast that exhales trouble - who wouldn't want to see that? If the future of alternative lies in part with Ashnikko, get ready for it to bite back.