FUCHSIA NOSTALGIA: DUA LIPA DELIVERS
A vision in hot pink, the pop icon finally gets to tour her latest album in Newcastle.

Published: 25/04/2022
Author + Photos: Eleanor Osada

March 2020. The world that birthed 'Future Nostalgia' was a strange, unfamiliar one: abandoning all routine only to barrel headfirst into a global pandemic. An era steeped in fear and desperate need for distraction from — seemingly — impending doom, it was never how Dua Lipa intended on unveiling her shining sophomore album.
'Future Nostalgia' is jam-packed with songs clearly destined to be summer smashes. Despite the downfall of, well, everything - the album still found a way. Hungrily received, it won Best Pop Vocal Album at the Grammys, ranked high up plenty of reputable 'end of year' lists, topped the record charts in 14 countries, and went platinum in 11. What initially seemed like terrible timing for a release, surprisingly, worked in Dua's favour. It never lost momentum for a minute.
While a solid, successful pop record on its own, 'Future Nostalgia' also provided an escape that little else could at the time: simply pressing play helped to transcend any and all misery, and let you lose yourself to dance.
This feeling translates perfectly tonight in Newcastle, a city notorious for an intense night and a good time, inside a packed arena. It's as if the crowd are antsy to begin, like they've arrived for a big dance class. The anticipation is understandable, as this is perhaps the longest awaited of all large-scale tours — tonight's show had actually been postponed a frustrating three times, despite being announced at the tail-end of 2019. People are finally ready to let loose.
As the light dims, the screen crackles and pops with a blur of VHS montage - old handheld-cam clips from a life lived between then and now, a window into what we've missed. Then, as the live band and throng of dancers spill onto the stage, we're treated to a little 80s sitcom-esque introduction - profile and nickname - of everyone performing that night. So many good pop productions are down to a similar mob, but rarely do they get the gratitude of a credit - it's nice to see.
The crowd go nuts as Dua, in a beautiful pop concert cliche, ascends via a riser into the middle of the stage. Dancers, all in red bodysuits, are lined up against a ballet barre as they launch into the album's second, blood-pumping single, 'Physical'. Even watching her crew, effortless in such high-intensity movement, is a workout - barely five minutes into the show, and the energy is palpable. Like a great deal of Future Nostalgia tracks, this one elevates some beloved 80s tropes; most notably, the dark thrum of the sawtooth bassline. Its fluid edginess is enough to get everybody excited for the show ahead.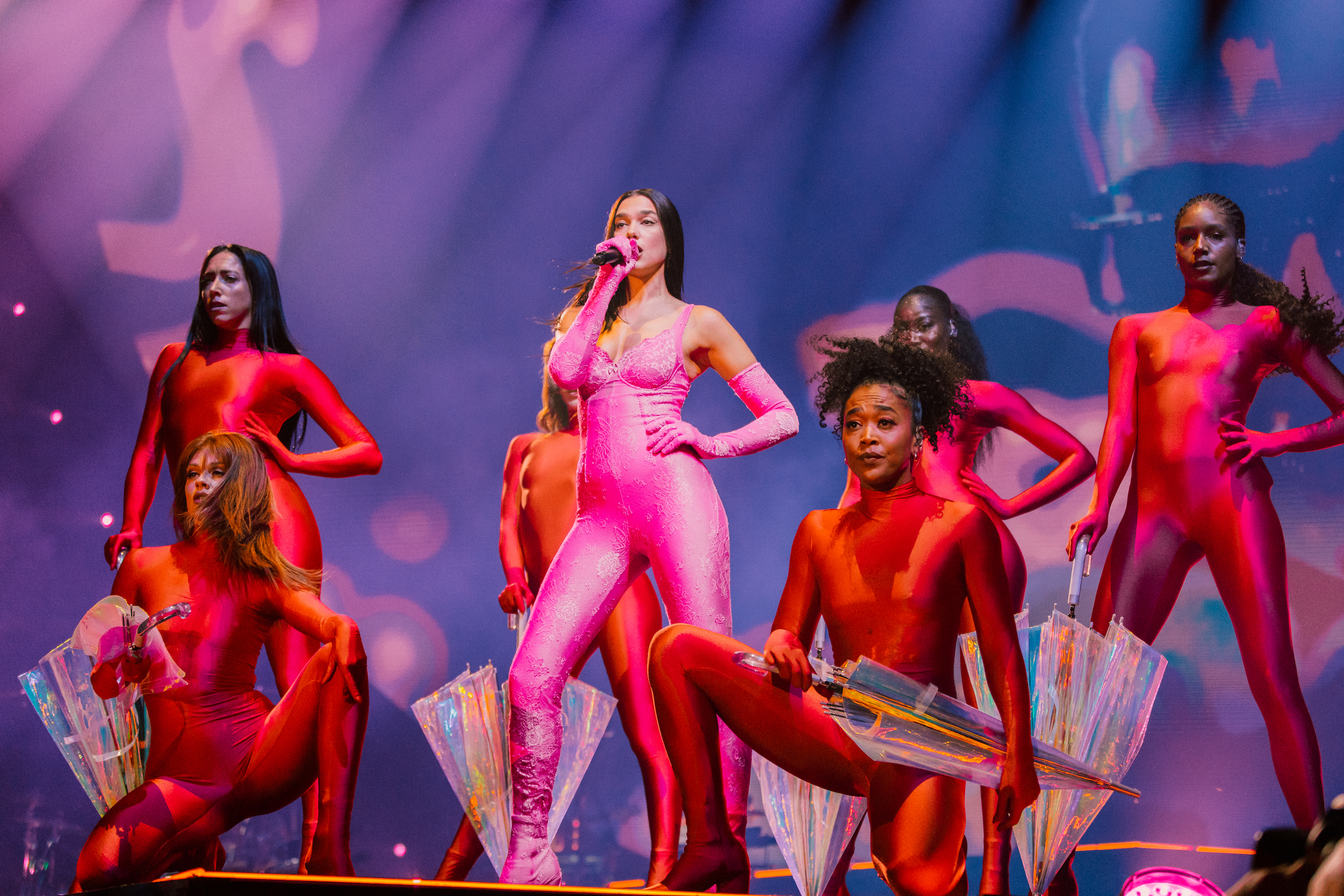 Moving into her first pop-culture-shifting hit, 'New Rules', there's even more of an eruption from the audience. The dancers each carry translucent umbrellas, dipping into choreo not dissimilar to Singin' In The Rain, as they all fall in line, striding up the catwalk by the time the chorus hits.
Watching the Future Nostalgia Tour, you quickly learn that this is pop-mastery on all fronts. The vibe at a Dua show is simple: fun. It doesn't need to be overcomplicated, because goodness knows that we've built up enough of a headache from the world outside the arena. Looking around at everyone dancing and singing along, it's a pure, shared moment — some of the first of its kind in a very long time. Being surrounded by people enjoying themselves with no implication, and certainly less worry, it's refreshing.
"I kept waiting and waiting and waiting," Dua starts, addressing the audience in between songs, "so it feels fucking surreal being here tonight with you, thank you". Digging further into her back catalogue, she opens into 'Be The One', a dreamy anthem from her debut. Later, she issues a call and response — which is met loudly.
Dua's crowd interaction is sweet, and not at all flat - she cares about the people who have made an effort to see her tonight. The set is scattered with "let me hear you"s, "jump, jump"s, and plenty of index fingers to the sky. She's nailed the popstar presence - so much so that you'd feel certain that she had been packing out huge venues for years, but thanks to a covid time blot, this is actually fairly new territory for her.
She dedicates the bridge of 'Good In Bed' to two girls that she notices have been "singing along all night". This song leans into its flirtatiousness, as the dancers couple-up to fake argue, only for Dua to finish the song by breaking them each apart, giving them a faux telling-off as she goes.
The show isn't afraid of silliness, either. There's a giant, inflatable lobster that appears during 'We're Good', appearing to hop around as Dua dangles her legs in a hole in the stage - illuminated blue to mimic the sort of pool that Hockney would paint.
The entirety of Future Nostalgia is dotted throughout the setlist, and no matter what track it is, it feels like a star pick - a treat to hear. 'Cool', in its gel-like, synth-led glory, is an understated bop - and the fan-favourite, 'Break My Heart' feels like the ultimate floor-filler, the rich bassline hitting the rafters.
There's four acts, and four vibrant outfits during the night. There's trickery as Dua dips offstage, a costume-change diversion - but they're good smokescreens. There's little dance interludes (a tropical reworking of 'IDGAF', for example), dancers on neon rollerblades, and a spotlight moment for her backing vocalists as they triangulate front and centre. Her live band are really tight, and offer a nice change from exclusively playback at a pop gig.
Dua Lipa's set is a joy for fashion enthusiasts too: going from a hot pink lace jumpsuit, a tan bralet and tennis skirt combo that Sporty Spice would be proud of, and closing with a stunning black Mugler bodysuit embedded with 120,000 crystals. The album's retro halo lives through this outfit in particular: looking her way, she is sparkling like a living disco ball.
It's bizarre to think that the songs that make up the bulk of Dua's setlist tonight, obviously in support of the album, were introduced to us just over two years ago. It truly doesn't feel like they've aged a day, and is maybe an indicator of how timeless they'll go on to be. They still sound ultra fresh, admittedly slightly reworked in places for the purpose of a live show, with plenty of extended outros and breakbeats — including an unexpected 'Boys Will Be Boys' samba spin-off during another costume change, spliced with Gwen Stefani and Missy Elliott snippets, as if someone were behind the decks.
Dua and all her dancers congregate at the end of the walkway for 'One Kiss', barely enough room for them all on the tiny, diamond-shaped dancefloor. The bass is pounding, and skinny beams from the uplights section them off from the crowd as they dance, as if they're in a raised VIP area. Moving seamlessly into another Dua feature, 'Electricity', the continuity and staging captures the vibe of a night out so flawlessly, you feel a part of it.
As if they've fallen out of a club at the end of their night, things get more mellow as Dua sits close and sways with her dancers, beckoning a singalong for the Elton-interpolated 'Cold Heart', as the man himself appears onscreen to sing his verses. It's the tender, phone-torch moment of the show, and it's plain to see the stage crew - arms around each other - soaking it all up.
Leaving her grandest hits til last, a full moon eclipses a suddenly empty stage, accompanied by the sound of an ominous, space-age synth - and, UFO style, a small platform descends. Dua, appropriately, climbs aboard and soars around the arena for 'Levitating' as huge, holographic mirrorballs and foil stars on strings lower, offset by light flares at every angle. It's dazzling.
The whole arena seems to light up for the encore, the album's funky namesake, 'Future Nostalgia', and her biggest smash to date - 'Don't Start Now', where she runs through her band once again - each reintroduction earning applause.
Once upon a time, a video of Dua's dance moves - an awkward hip-wiggle - became a bit of a meme. Here, with a smirk, she once again lines up with her backing dancers and briefly parodies it.
Her growth, in all sorts of ways, is tremendous — a ferocious, confident stage-owning aura that feels so separate from whoever that Dua in the video was. The crowd is
loud
for this final song, deservedly, and as the confetti cannons go off - it's never felt more like a party than right now.
For an album that dawned in patient living rooms, kitchens and bedrooms; Dua Lipa and her talented entourage grant it the fabulous new lease of life it was thankfully always fated to have. Bold, fluorescent and feverish, the Future Nostalgia Tour is one for the ages.