HEARD IT IN A PAST LIFE T-B-T
We look closely at Maggie Rogers' sparkling debut in a track-by-track dissective review.
Published: 07/01/2020 Author: Eleanor Osada
Photos: Eleanor Osada, Olivia Bee (album art)

Maggie Rogers is part of a very select pool of people: young talent, catapulted into a bizarre, illustrious level of stardom overnight - all because of the internet. Despite her obvious tiredness of her viral video being overhashed in every interview she's every sat through, we'll quickly recap, for sake of context (sorry, Mags). In 2016, Grammy award-winning musician and producer, Pharrell Williams, sat in on Maggie's NYU class to critique some songs of theirs, and essentially provided a masterclass by offering improvements firsthand. But when Rogers' song 'Alaska' was played back, Williams sat in stunned silence. "I have zero, zero, zero notes for that" - a remark that caused visibly sent Maggie spinning, her jaw falling as she maintains a fixed, but awestruck, gaze on Pharrell. "I've never heard anyone like you before, and I've never heard anyone that sounds like that".
The following three and a bit years have carried Maggie to dazzling heights. She's now Grammy nominated herself, has played Glastonbury, Lollapalooza, Coachella and Gov. Ball, released both a critically acclaimed EP *and* her first major-label album, and has just finished a lengthy worldwide tour in support of said album - which debuted at #2 in the Billboard Top 200, by the way.
"Heard It In A Past Life" is a glorious collection of songs, evoking impossible nostalgia and allowing for an unreal freshness in the mind, pop-infused peace, almost. Maggie's unique flavour of bright, beat-ridden folk-pop melded from her upbringing in Maryland, where she grew up playing banjo — so religiously so, her first two (self-released) albums featured the instrument prominently — and her time studying abroad in France, in which she had "a really spiritual experience with dance music". Her aural vision was to fuse the harmony and nature, so commonly found in traditional folk music, and the backbone and energy of European dance. And that she did, alongside production giants such as Rostam, Greg Kurstin and Kid Harpoon. Contrarily, Maggie is an old soul, with the skeleton of her songs sounding as if they were penned in an era gone by. She is constantly compared with Janis Joplin for her fierce stage-presence and uncomplicated, obvious passion for her craft, and it's easy to see why.
In this first
T-B-T review
, we relisten to Maggie's debut in great detail nearly one year after its release - breaking it down track-by-track to see what makes each one so special.
Give A Little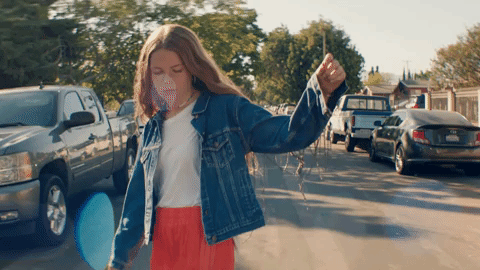 Overnight

Upon first hearing 'Overnight', it stopped me in my tracks. Sparkling and dusky all at once - the production hampered with (literal) tropical frog croaks - this song really lingers. At times, it sounds so stark, and Maggie's vocals sound so pained and desperate ("I'd still meet you in the middle of the night, but if you lie to me, lie to me, I'm gone"), but the layering is so fastidiously done that it becomes a slow, graceful open wound. One shared, at that.
The Knife

Modern pop excellence comes in the form of this track. The bassline in 'The Knife' soaks through, like coffee through sponge. It's almost
too
lavish, but it's grand, and it's rich - it's a luxury. Maggie's husk sits comfortably in the depth of the mix, with the sharp treble of the percussion and occasional synth slicing through. Lyrically, it's about the realisation of how explosive and frightening becoming vulnerable is ("Beautiful how it all pours out, after dark, after light"). Vocals and poetry in tandem, it's easy to hear it as manic, and it's oh so real.
Alaska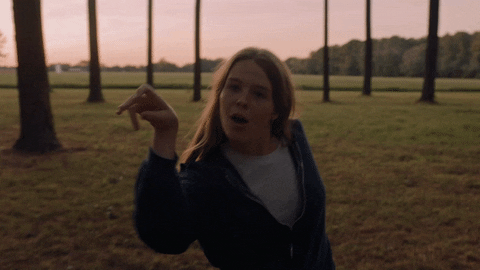 A gentle, foresty breath of fresh air - and the very piece of homework that helped her fly so high. Maggie's mission statement of compounding the sounds of nature and the pulse of dance music is demonstrated so perfectly in 'Alaska'. This song was borne after an intense period of writer's block, and a month-long expedition to the song's namesake. There's that taste of isolation beneath the syrupy production, yet it beats on happily, like a long walk. It's almost primal, undulating like a river's current. A stocky congo sample shines through, underlying the balmy nature of the airy folk melodies and the buoyant lead synth. In her Song Exploder episode, Maggie draws similarities between "finding your rhythm", both in walking and dancing, and how meditative both can be.
Light On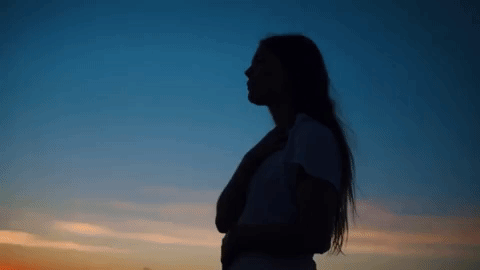 If every artist is to have their timeless anthem moment, for now, at least: this is Maggie's. There's a dewy triumphalism coating the whole song as it builds and flourishes, but don't be fooled - lyrically, the song is heart-wrenching. It talks of her struggle of being thrown into the public eye, and how overwhelming and sudden the transition was: "Would you hear me out if i told you I was terrified for days? Thought I was gonna break", she sings almost apologetically, in what feels like a really intimate confession between her and you exclusively. In an explanatory tweet around the release of the album, Maggie recognises the vulnerability of the track, "Change is messy. Messy is human". As the track rises and raptures, the battle-cry radiates a therapeutic, kind, conclusive energy that Maggie has truly mastered on this album.
Past Life

The most bare of all tracks, so much so that it's almost acapella. It still has the heart of a Maggie track, and the usual ache, but it's a song that has been disrobed of bells, whistles and birdsong samples. Yet it demonstrates her versatility so well: a short, reflective piano ballad, so mournful in its realisations, but containing lines that could be plucked straight out of a classic country song ("Oh, I could feel the change a comin' / Felt it in the breeze"). It's also the heart of the actual album, being splat bang in the middle of the tracklist - acting as a brief interval, and a reminder of the album's supernal theming.
Say It

There's a beautiful calm and sensuality to Say It. It sounds like the height of summer - an evening where the heat lingers, almost uncomfortably. The track is dripping with the same bright, late-night wash of cerulean and the torridity of the crimsons that the album artwork holds. It's like the audio equivalent of watching a lava lamp, until the huge R&B chorus tears it all open into an even richer piece, led by a falsetto and punchy 606s. It's hazy, it's sultry, and it's so good.
On + Off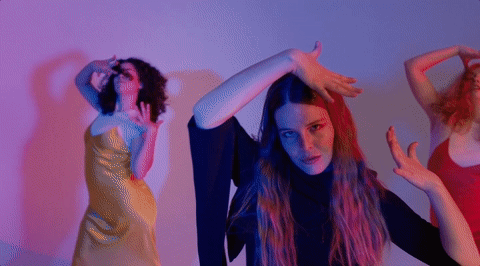 Adjacent to one track fraught with warmth, this one provides much the same. It's foggier, with its irresistible syncopated beats - sounding like the musical equal to crushed velvet. Maggie allows breathing room, as per usual, for layers of harmonised "oohs" to glow above powderings of a murky lead guitar riff. 'On + Off' crawls and writhes, like a long-lost soul-pop track with an edge.
Fallingwater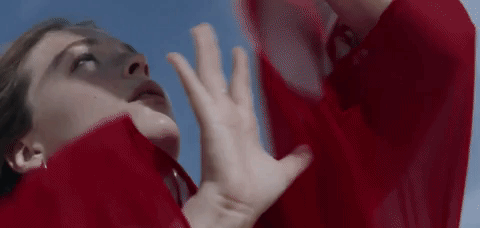 This track is shimmering and visceral, and sees the loftiness of Maggie's vocals. Opening with shotgun drum hits and later breaking away for the slow swell of an augmented gospel choir, it's almost a divine experience. It's somewhat of an earthy, pop hymn, loaded with organic imagery ("I fought the current running just the way you would / and now I'm in the creek / and it's getting harder / I'm like falling water"). Maggie plays with the elements like a young witch - perfect control over light and dark as they spill from her fingertips and into her lyrics - and instrumentals, even - thus cementing her kindred with nature.
Retrograde

There's a vintage luminescence to 'Retrograde', akin to golden hour soaking everything in colour. It's so vivid and tender, marching forward in the same way that 'Alaska' does - the in-ear alternative to 'walking it off'. It wouldn't sound out of place in a remedying montage of a coming of age movie, with the caramely musical delivery cladding the somewhat existential lyrics. Lyrically, the song carries both a disenchantment and a panic: "here I am, settling, crying out / Finding all the things that I can't do without / Oh, now I am giving in / Oh, I'm in retrograde", with Maggie supersizing her feelings so that they're planetary, comparable to that of Mercury.
Burning

Effulgent, glistening and utterly lovestruck - 'Burning' celebrates the delight of a new romance, and the fire it can elicit. She sings with such fervency, realising that it's gratifying to be ablaze in such a way: "I'm in love, I'm alive, oh I'm burning". There's a real primitive response in my mind to the thud of the drums in the chorus - and how Maggie calls out, as if she's trying to compete with the volume of the instrumental. It's feral and overexcited in all the right ways.
Back In My Body

'Back In My Body' is the most ceremonious way to finish, and finally exhale. Maggie once again gestures towards her vulnerability so openly, in a track that sounds dreamlike and anxious all at once. Beginning softly in the quiet - steady drums and synth arpeggios roll in to reinforce her, invalidating any worry, crescendoing in unison with her voice. Maggie's geographical unease as she bounces from venue to venue is alleviated as she grasps a sense of self: "I found myself when I was going everywhere", with any meekness melting away as the track ebbs and flows forcefully, exactly as any internal argument would. But the emphasis on the album's closer is particularly on that acclamation of power - and again, Maggie is capable of creating a piece of music so restorative and healing. Once defenceless, but now embracing her fight, this song prompts courage, and instils an omnipotence that only music can.
MORE:
FEATURE:


WHO IS PETALS FOR ARMOR?

---

An Instagram account has been posting (albeit, aesthetically pleasing) close-ups of flowers since October. But who is behind it? And why?