SAM FENDER FILLS OUT NEWCASTLE ARENA
With stories of the stuck youth, Sam's words resonate with his home crowd.

Published: 22/11/2021
Author + Photos: Eleanor Osada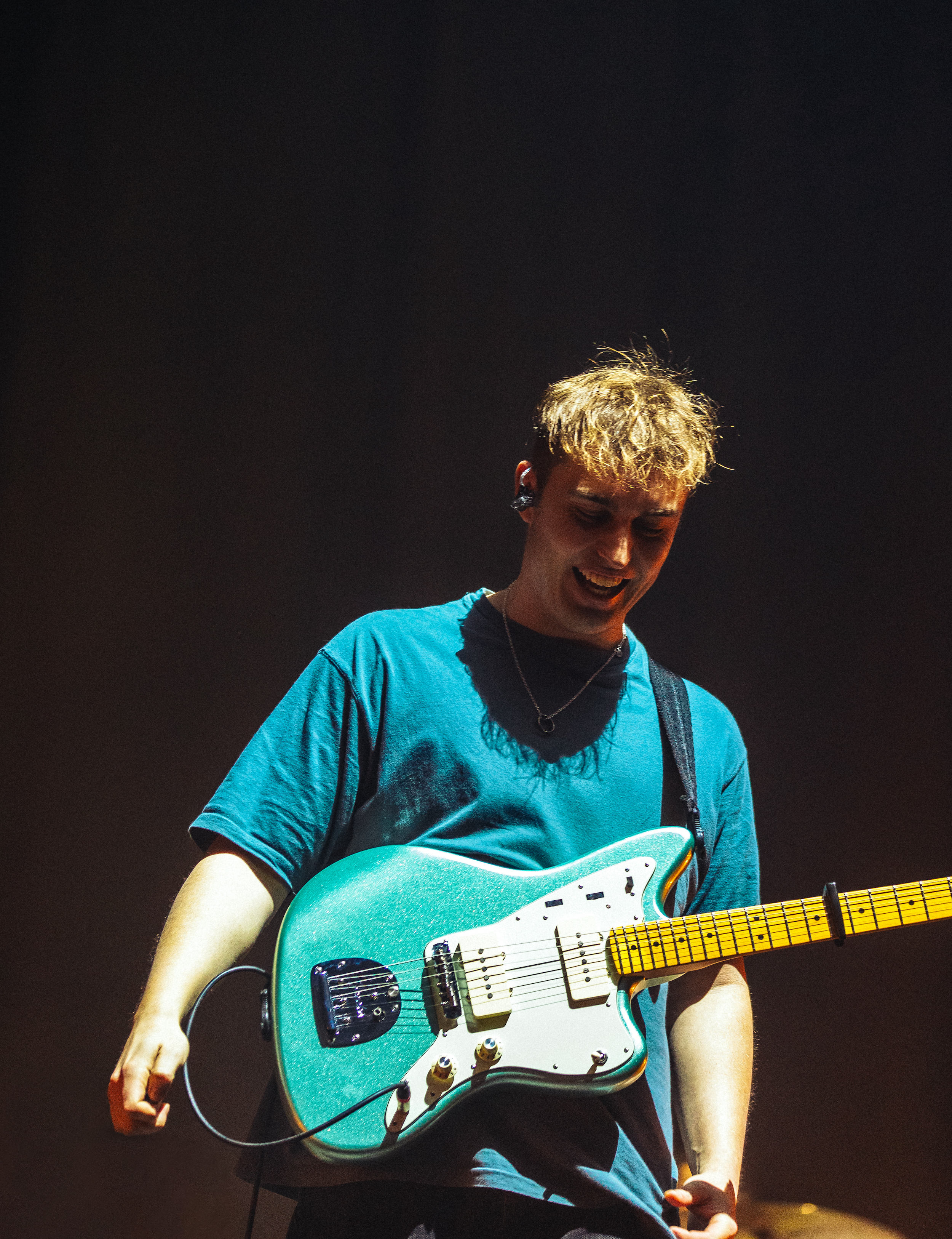 Sam Fender is no longer the boy that manager Owain Davies found at the end of a celebratory bender, and purely by luck, playing guitar in the corner of a pub in 2013. He is now a household name, capable of packing out arenas with ease, but this one - the Newcastle Arena - is especially important: Sam's old stomping ground. "I saw the Newcastle Eagles here back in the day! You know, the basketball team?", he proclaims, and his childlike disbelief is clear. Growing up and witnessing titans hold a crowd of such a size, did he ever imagine he'd be doing the same one day?
Probably not - Sam is of a humble background, born and raised in North Shields, just a stone's throw away from the venue tonight. When he's not making a very necessary critique of the state of the sociopolitical climate, his more personal songs entail his hardships. The namesake of his newest album, 'Seventeen Going Under', reveals how he nearly turned to dealing drugs when he watched his mother caught in a vicious cycle of debt and poverty, and the exhausting fight for a better future. The candor of this track is a total gutpunch; a young lad overcome with frustration, helpless to the situation he's in, just trying to find an out. There's power in Sam Fender's poetry, and with stories of the things that stuck youth do to get by, his words are especially felt by the huge Newcastle audience tonight.
The climb to this monumental date has been a grind. Sam has been gigging for over a decade, and only now is he getting his due diligence. Not just that, but remembering that this show was originally ticketed back in 2019 means that the victory of playing an arena has been sitting dormant, while a good 11,000 people - plus Fender and his crew - have patiently accepted all three postponements ("We've been dying to play this gig for so long", he recalls). But on the 18th of November 2021, their moment is finally here.
Minutes before Sam takes to the stage, giant Newcastle United FC flags are raised and waved with triumph, only for the lights to dim and for Fender and his band of friends to be slowly summoned on by a brass rendition of the toon's longtime theme tune, Knopfler's 'Going Home' (appropriately enough, the closing track of the film he soundtracked, 'Local Hero'). The local patriotism is palpable - not only is Sam proud of his roots, but the sea of people that stand before him are too. More pointedly, they're proud that he's one of them. The cheers are deafening, and the shared pride in this milestone is obvious.
Driving straight into the heady fuzz of 'Will We Talk's' intro, the stage lineup are armed with grins and wide eyes - Sam occasionally has to dip away from the mic to shake his head with astonishment. Later, he remarks that he can't find the words to constitute the enormity of the night: "I've got a lasagne heed", he jokes, "my head has genuinely turned into lasagne".
The heft of his setlist, divided fairly evenly between his acclaimed debut, 'Hypersonic Missiles', and his sophomore, is more than enough to gratify the people of Newcastle. Reaching the highs of towering anthem, like 'The Borders', or the high octane b-side - 'Howden Aldi Death Queue', a jest at the hopeless unknown in the midst of the pandemic - in which Sam offers mosh pits to open up, ensuring that people "take care of each other", and to "pick [someone] up if they fall".
Going full pelt, exhilarating as it is, they occasionally slow for more tender moments, like this year's 'Spit of You' - allowing for a montage of old pictures of attendees and their loved ones up on the big screen, e-mailed in by fans just days before the show at Fender's request.
Sam's ability to swivel from hit to deep cut and receive just as big a reaction is testament to his songwriting ability, and how sharp and true-to-record him and his band sound live.
Algorithmic magic on side, the second verse to 'Seventeen' has actually started blowing up on video platform, TikTok, just this month. "I was far too scared to hit him / But I would hit him in a heartbeat now" has been tailored (as an audio snippet) to fit stories of domestic abuse, coercive control, and similar. As of today, there have been a whopping 155,000+ videos made using his song. Sam made his own in response, to sincerely thank people for sharing their stories. Surveying the arena when the lyric in question hit, the glow of hundreds of phone screens - all filming in unison - was staggering.
The encore consists of a solo cover of 'Dancing in the Dark', by Fender's self-admitted sonic and folkloric mirror, Bruce Springsteen. It's no surprise that the audience know every word, as if recognising the legacy Bruce has cemented, knowing Sam will likely follow suit.
Closing with his most-streamed, debut title-track, 'Hypersonic Missiles' - which pleads for the mass extinction of the miserable and ridiculous - the now iconic 'whooooooa-oh-oh-oh-oh-oh' call carries on from the seats and into the streets, merging with NUFC football chants in congruous celebration of a landmark night for the Geordies.
There's an empathetic air in the room that spills out into the rest of the night, one of both understanding and a comfortable bet that there is great longevity in Sam Fender's career - tonight in his home city, he's only getting started.