THE 1975 AT THEIR VERY BEST: AT LEAST, SO FAR
The Geordies give the numerical band the homecoming they deserve.
Published: 27/01/2023 Photos: Jordan Curtis Hughes
Author: Eleanor Osada

"We're very happy to be here, in God's own country," Matty Healy, The 1975's contentious frontman says, addressing a full house at Newcastle's Utilita Arena, all gathered here, midweek in a bitter, dark January, to witness one of the world's most talked about bands.
Tonight, The 1975 are '
At Their Very Best
', an admission made via the actual tour name. If you know even the slightest thing about them, it feels typical - this wry, salesman sloganeering - as if they're savvy to their own impact. It's no secret either, springboarding into the populace's ear a whopping decade ago - the band's huge success somehow feels both overnight and very merited.
I'm no stranger to a The 1975 show, in fact, my last taste of live music before the world was locked down was courtesy of them, in Glasgow — a mere two weeks before the idea of assembling together for such a thing started to fade from the general consciousness.
The 1975 shows, for a long while now, have been marked by being a real visual spectacle, a must-see. Their last two tours prior to this have relied on colossal screens and backdrops to illuminate their larger than life performances - intense simulations of the state of our world, washes of headache yellow, bulletin-style type, and their trademark neon-pink bordering.
To a lesser, but still impressive, extent - the trailblazing optics continue on this tour. It's not as technicolour as it once was, but this only attests to the band's chameleonic power.
The stage is arranged as if it were the set of a sitcom, a big-budget modern play, or maybe even an IKEA showroom, with its all-white Scandi structuring. Now dependent on zero onstage graphics (else the little square, vintage TV sets) the band — an eight-piece, including the all important touring members — play within the skeleton of a house, or the impression of one.
The first pulse of the show is for the tall, looming streetlight onstage to fizzle to life. A car draws up outside, so it sounds, and mock-headlights flood the house's windows - each of which are accessorised with shutter blinds. There's a running ceiling fan, a spiral staircase to nowhere, pictures in frames decorating the walls, books lining the shelves. It may not deliver the vibrant magnificence of previous tours, but the flexibility to reinvent — and do it very well — feels on-brand for The 1975.
Opening, as they always do, with 'The 1975' — a self-titled track that they've released on every album, a different iteration each time, their latest being a new composition entirely — the band nonchalantly waltz in through the house's 'front' door, and Matty materialises on the couch, front and centre. Lighting a cigarette and making his way to the piano, the bunglesome, LCD Soundsystem-esque keys kick in.
It bulges and shrieks with an urgency as the track builds, cutting straight into their next - a counterintuitively upbeat song about a mass shooting and the jeopardy of modern masculinity, 'Looking For Somebody (To Love)'. It has an air of 'Pumped Up Kicks', or 'I Don't Like Mondays' - offensively catchy at surface level, but swim a little deeper, and it gets dark.
The first section of the show is almost exclusively to letting their latest record, 'Being Funny In A Foreign Language' breathe, and let the tracks race around a live environment - where they truly sound destined for. Tracks like 'Happiness', 'Oh Caroline' and 'I'm In Love With You' are so delightfully in character for The 1975: a perfect pop hook, sparkly guitar, a good groove, irresistible gang vocals or callbacks, all of which are urging you to dance. 'I'm In Love With You' in particular is as if you asked AI to generate the most The 1975 sounding song, carefully picking out all the tropes they're loved for - it's nostalgic in all the right places.
Their stagecraft is smart, and transitioning from song to song is sleek. There's an intellectualism to what they do, and this tour - for probably the first time since they actually played small venues - boasts an accomplished intimacy, the sort that mysteriously feels right at home in a packed arena.
Healy refers to tonight as "their hometown show" - with him being raised in nearby Prudhoe, and their saxophonist (John Waugh) and keys player (Jamie Squire) also hailing from the city. The littered references to some obvious local pride don't go amiss: a close-up on the big screens of a Newcastle Brown Ale to accompany Matty's rare meat feast, a smidgeon of NUFC's walkout theme, 'Local Hero', leading into one song, and Waugh reappearing in the famous humbug strip.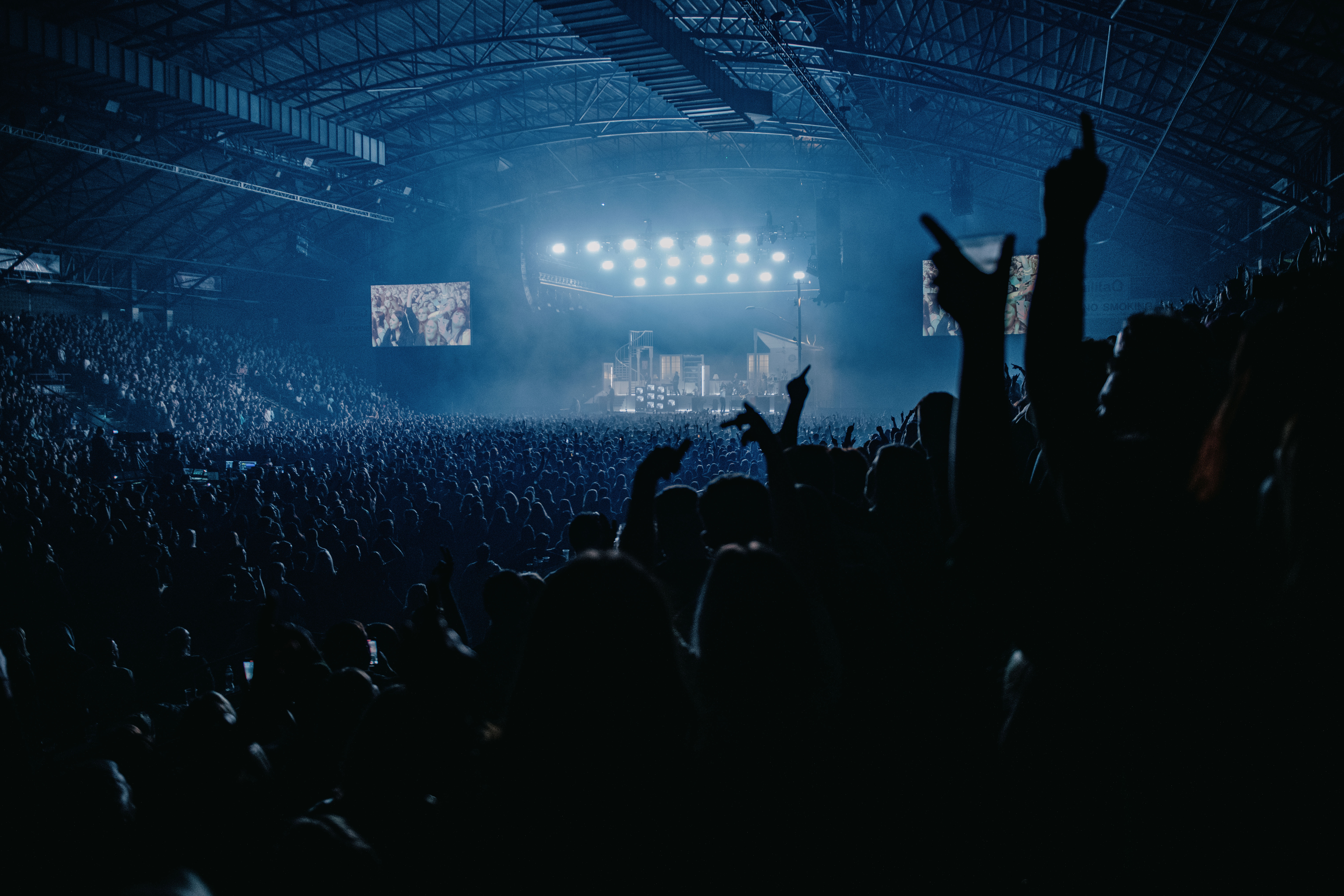 Healy also jokes about relatives who've come along for the show tonight, slipping into the Geordie brogue as he does so, "Eee, yous have done so well with ya music!", trivialising the band's now global platform, and is met with a wave of recognised laughter — thankfully not canned, inside our little situation comedy.
"What is method acting?", Healy, seemingly at random, asks the audience, perched on the edge of his chair. There's a deliberate blackout, and as the lights come back on, his beloved father, Tim Healy ("The king of this city", Matty claims) sits in his place. There's rapturous applause for the 'Auf Wiedersehen, Pet' legend, and a little bit of astonishment as for 4 minutes, he does Matty's job: sings the next song on the setlist, 'All I Need To Hear'. Tim croons through, and actually suits it perfectly. He's been spotted in the seats at most shows this tour, like a proud father watching his son in the school nativity, but tonight is
his
time to shine.
Watching them whittle through their discography feels like an art. 10 years of material, and all of it feels deeply embedded into the scene. 'Robbers' was an integral track in the adolescence of many, and tonight, the band are silhouetted - massive shadows projected on the makeshift walls - as the crowd belt "now everybody's dead" back at record volume.
Matty Healy's bravado is unmistakeable, but with it comes some wise-guy patter in between songs. It's what he's known for, for better or for worse. The 1975 are a painfully online band, and knowingly self-aware. Healy is also well acquainted with his ferocious reception on the world wide web, responsible for many an eyebrow-furrowing tweet or one-liner, acknowledged in lyrics like "am I Ironically woke?", and "I'm a racist and you're a massive slag".
As he staggers across the stage, bottle in hand, his bandmates are steadfast and deadpan — loyal in their musical offering, professional, while their frontman is clowning around. But this isn't necessarily a bad thing: it's a persona, a bit. Think of Mick Jagger's often-parodied liquidity in his stage moves - it's his patent. Similarly here, it's Healy's uninhabited, purposeful way of entertaining, of being the star in this show. With drama in his DNA, it's hardly surprising.
He ascends to the 'roof' alone, for a piano orchestration of 'I Like America'. Eclipsing the spotlight, standing high above his people, and issuing lines like "I'm scared of dying, it's fine", there's a a profound sadness, stripping back the song like this for unexpected clarity.
In pursuit of tenderness, they move straight into a popular pick from the new album, 'About You'. It feels weighty and airy all at once, with a thundery guitar part that glides across the choruses from Adam Hann — but the real highlight is the gentle vocal that comes in during the bridge. On the studio recording, it's Hann's wife, Carly Holt, but backing vocalist Polly Money sings angelically tonight instead.
There's a strong cinematic quality to the night that lies beyond Matty's cavalier ballet, a big, blatant bit of theatre. It feels untouchable, inexplainable - perhaps it's the quality of it all, the nuances to the production.
Yet still, like the earth around the sun, the show revolves around Healy, and whatever his next move is. Parts of it get very arthouse, as he turns to one of the television sets and declares that "you can't keep a dolphin in a concrete cage, eventually it's echoes will drive it insane". Even more so during the divisive intermission, named 'Consumption', which has been seen by millions online since they began their US tour back in November.
Prefacing it with a speech about how the show "represents the gregarious single man", Matty starts his descent into contemporary performance art - à la Tracey Emin - in which his nearest, small television plays compilation footage. It showcases such lows as the Tory polls, controversial YouTuber Logan Paul, forest fires and other obscene bits of video, all while Matty slowly undresses on the couch, lazily slipping a hand down his trousers - leaning back, eyes closed, cigarette in mouth. To his right, an oxygen tank. The discomfort in the room is palpable, still, a lot of phones are capturing the moment.
A crew member, donned in a clinical white lab coat, brings Healy a large, raw steak - bigger than the plate it sits on. He kneels on the ground and indulges, biting into the thing, staring on towards the small set. Soundtracked by an old Hollywood string instrumental, that at first blooms and slowly disfigures, he - still fixated on the television - sheds his shirt and starts doing push ups. The sets spread the surreal imagery like a virus, before Matty crawls inside one of them - blurring the lines between what we live, and what we consume. Then, all screens cut to black. Like much of The 1975's output, it exists to be explored further. While this offbeat diversion between songs won't be to everyone's taste, it's a bold statement.
After a record created as a sort of critique on the digital age ('A Brief Inquiry Into Online Relationships'), it's only fitting that a resurgence should come via short-form video platforms like TikTok. The 1975's music and, unfortunately too, Healy's (more often than not) big mouth have been subject to a whole new crowd. This is an internet-induced era of popularity, or maybe infamy, for the band - with almost accidental viral reach, head and shoulders above anyone else at a similar point in their musical career. It's persuasion rooted in the little clips of
good humour
, mass-hype,
allure
, and
special guests
, even.
On the note of special guests, the Newcastle crowd were toyed with: after the 'Consumption' interlude, the house remained quiet - that is, until the doorbell rang. Hann goes to answer it - looking towards the big screens, the words "Guest Starring" provoke a bit of a reaction. So far, The 1975 have welcomed both Taylor Swift and Charli XCX for a small guest slot during their UK leg. Who next? "Harry Styles" flashes onscreen. The response is so hysterical, it almost dips into silence for a second.
Shyly peering round the door is none other than Lewis Capaldi. Somehow, the cheers get louder. Ever the comedian, wearing a bootleg The 1975 hoodie, he comes down the staircase to the microphone, "I bet you're all thinking 'God, Harry Styles has changed'," he kids, "I'm gonna play this because you'll probably never hear it, I don't think". Armed with just an acoustic guitar, it soon becomes clear that he's covering the fan favourite, 'Antichrist'. It's an ongoing plea - and joke - that they'll never play it, despite the countless campaigns, signs, and direct asks. This, for now, is as close as anyone will get - and it's artfully accompanied by a video loop of Lewis being a Matty tribute act:
sucking someone's thumb
and doing push-ups.
"I don't know what to play," Capaldi hesitates a little as he wraps up the cover, "I'm on tour, so I'm a bit sick of my own songs". Amusingly, he heads straight into Swift's first big hit, 'Love Story'. The crowd is as loud as they've been all night, phone torches in the air, correcting Lewis as he occasionally stumbles for the right lyric. It's a nice surprise, despite being fibbed to about Harry Styles for shits and giggles, and I already know this will take off online. As soon as I'm home, a TikTok of his guest appearance has 18,000 likes.
As expected, 'Somebody Else' proves to be a timeless pop gem, and easily one of the most effortless sounding hits this millennium, while 'Chocolate' is lightheartedly introduced as featuring "in the next Sims game," Matty promises, semi-seriously at first, "they won't even need to re-record it in Simlish", poking fun at how garbled his speech is in the recording.
"The North is critically underfunded", Healy begins, going on a spiel about how we deserve better, culturally and fiscally. He's right - and shown not to be one to shy away from the politics, raising and
endorsing independence at their Glasgow show
last week. "The North is made to feel the way that I felt in this song", he continues, opening into 90s alt-radio influenced 'Always Wanna Die'. It plays like a deeper cut from 'ABIIOR', but has always sounded faultless, and so right, on a huge stage.
'Love It If We Made It' bolsters itself to be the best song on the setlist. Healy spatters bad news and volatile headlines against a synth heartbeat, and it grows into a frustrated yell — "but I'd love it if we made it" is the refrain, and it bursts into a glowy, 80s pop crescendo. A glimpse of optimism, a cry for us all to get through.
A staple in a The 1975 set is one of their first, and still one of their biggest, hits - 'Sex'. It has the same appeal it's always had, and at its core, it's just a great pop-rock song. Tongue in cheek, conversational lyrics and a solid stack of guitars, it sounds like youth. George Daniel, tucked up high at the back, motors away on his kit throughout.
The show ends on the anthemic 'Give Yourself A Try', a realist's take on the modern world - and the self - as Healy drops to the floor and gestures to his bandmates, "Ladies and gentleman, The 1975". There's a fire to this one, everyone on stage is full-pelt, burning out the last of their energy. Bassist Ross MacDonald is rocking back and forth, Adam Hann is playing the lead riff with some moxie.
The TV sets flicker orange as the guitar feedback is held in a high-pitched freeze — the band collect their bits and pieces, setting off from the house on their next great adventure, maybe in the car they rolled up in. They bow and wave, and the final act of the night is for Healy - the last on the stage, of course - to hit the kill-switch on the telegraph pole. Lights out.
If this is indeed, The 1975 at their very best, I cannot wait to see how they inevitably disobey that and do even better. For a band like this, the highest of heights will keep getting higher.