THE GLORIOUS VILLAINY OF DORIAN ELECTRA
With a presence somewhere between Chernabog and Cruella, Electra delivers a theatrical masterclass at SWG3.
Published: 08/04/2022 Photos: Jessica Newell
Author: Daniel Cole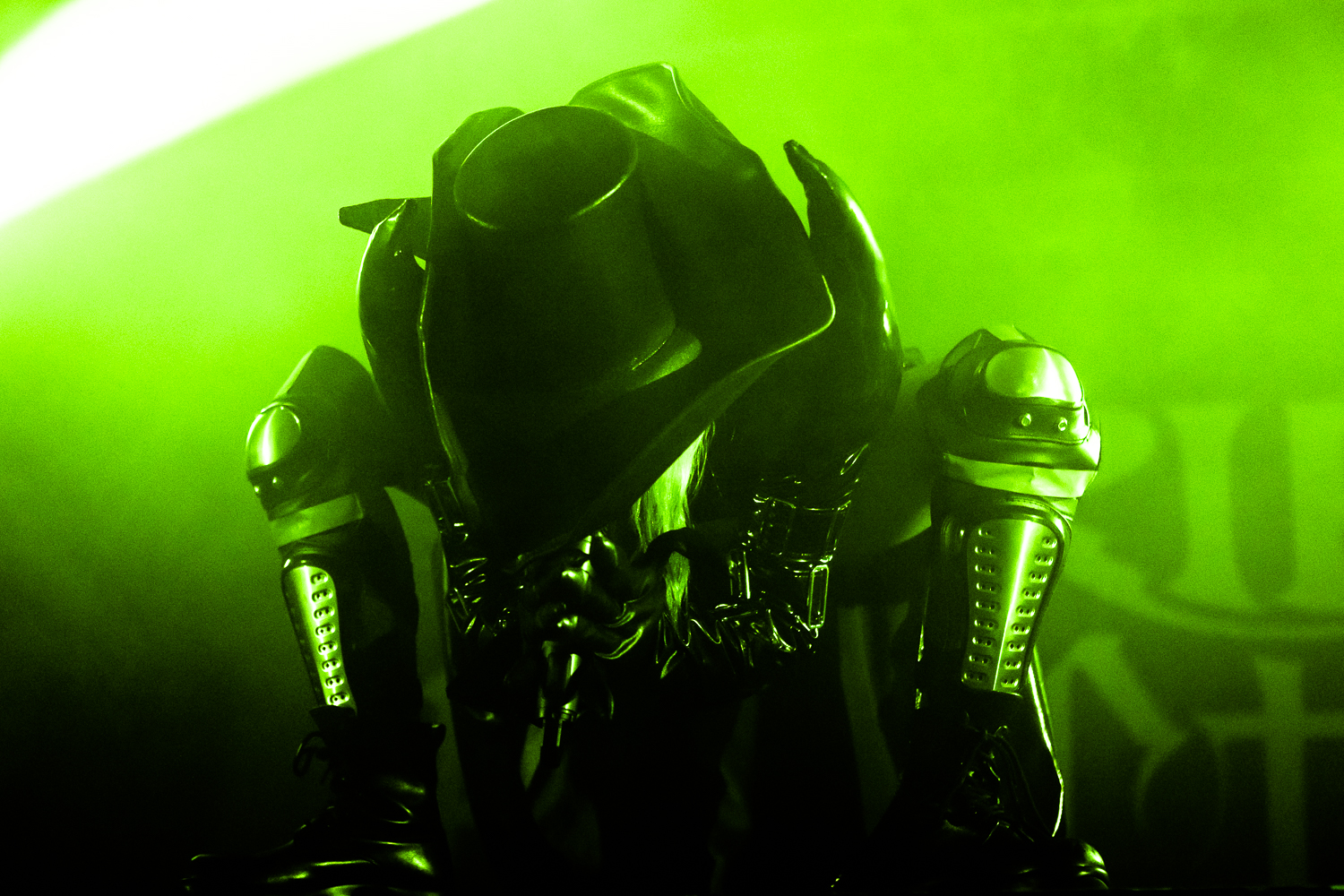 On July 25, 1965, Bob Dylan stood on the Newport Folk Festival stage and thrashed frantically at a Stratocaster. Dylan had just released 'Bringing It All Back Home', his first album to feature rock n' roll elements, and he made the ill-advised decision to give it its first showing between traditional sets at a folk festival. This display was not well received. At Newport, Dylan suffered an extreme case of an ailment that afflicts most performing musicians at some stage of their career.
New material can hurt a performance. Some crowds just want to hear songs they already know and seem to fall into a collective coma when new songs are played; others are so attached to a particular genre that they meet any stylistic changes with hostility. So common are these phenomena that they are generally considered to be unfortunate but inevitable realities of live performance.
On April 5, 2022, Dorian Electra hung from the ceiling of Glasgow's SWG3 by taloned hands and turned their winged back towards the crowd, casting a demonic silhouette through green smoke. This display was met with deafening shrieks and applause.
Electra released 'My Agenda' in 2020 and, having had to wait for the pandemic to blow over, has finally arrived in the UK on a tour of the same name. 'My Agenda' is the result of Electra's interest in online incel culture. It contains songs written from the perspective of those who have been fed unhealthy views of sex, sexuality, and masculinity over the internet. This shift in perspective reaches deep into the music, resulting in a menacing and biting tone that sounds a world away from the exuberance of 2019's Flamboyant.
Others may struggle to put on an effective show after undergoing stylistic changes, but not Dorian Electra. They divided the set between their two musical eras and adopted contrasting personas for each, heightening the impact of each style and giving the show a dramatic narrative.
The first character to enter was a villain - an authentic villain. Heavy metal singers may well dress like Satan, but he's actually quite a popular character in that community. Electra emerged with the incel's signature hat and sword, singing songs from 'My Agenda' about sexual frustration and male superiority. The parody was clear, though, as Electra exuded glamour with every gesture. They took the incel's sword and swung it enticingly while strutting across the stage, wielding a symbol of a hateful ideology and making it part of an expressive and excessive spectacle.
After a brief interlude, Electra's 'Flamboyant' persona entered triumphantly. They brought two backing dancers onto the now colourfully lit stage as if to emphasize the incel's solitude. They performed songs from Flamboyant without pausing for breath. Electra was lifted high into the air, the crowd were soaked by water guns, and fists flew in a mimed boxing match between the two backing dancers. This awesome visual spectacle was matched by the music. As one number was drawing to a close, Electra shouted "are you ready for the remix?". The reply was affirmative. Throughout the set, songs were embellished with injections of high intensity. Some changes worked better than others, but each one was worth implementing if only for the fresh excitement it added to the familiar songs.
Electra made another costume change before the end, but this one didn't seem completely necessary. This wouldn't have been an issue if it hadn't taken so very long. Another injudicious choice was made for the final song: 'Career Boy' is catchy, but the beat is much too slow for dancing. No one left the SWG3 disappointed, though. They left in a state of elated exhaustion, feeling nothing but reverence for the performers who had given such a masterclass in bringing bold new material to the stage.
View the night's setlist below:
F THE WORLD
M'LADY (+REMIX)
GENTLEMAN (+REMIX)
LIVE BY THE SWORD
1 PILL 2 PILL
EDGELORD
GIVE GREAT THANKS
ADAM & STEVE + REMIX
INTERLUDE (COSTUME CHANGE)
FLAMBOYANT
MR TO YOU
DADDY LIKE
SORRY BRO (I LOVE YOU)
BARBIE BOY
GUYLINER
EMASCULATE
INTERLUDE (COSTUME CHANGE)
RAM IT DOWN
IRON FIST
STRAPPING YOUNG LADS
MY AGENDA
MAN TO MAN
- ENCORE –
REPLAY REMIX
CAREER BOY