VAMPIRE WEEKEND (08/11/19)
The avantgarde Indie masters outstretch an arm, and an invitation to dance.
Published: 02/01/2020
Author + Photos: Eleanor Osada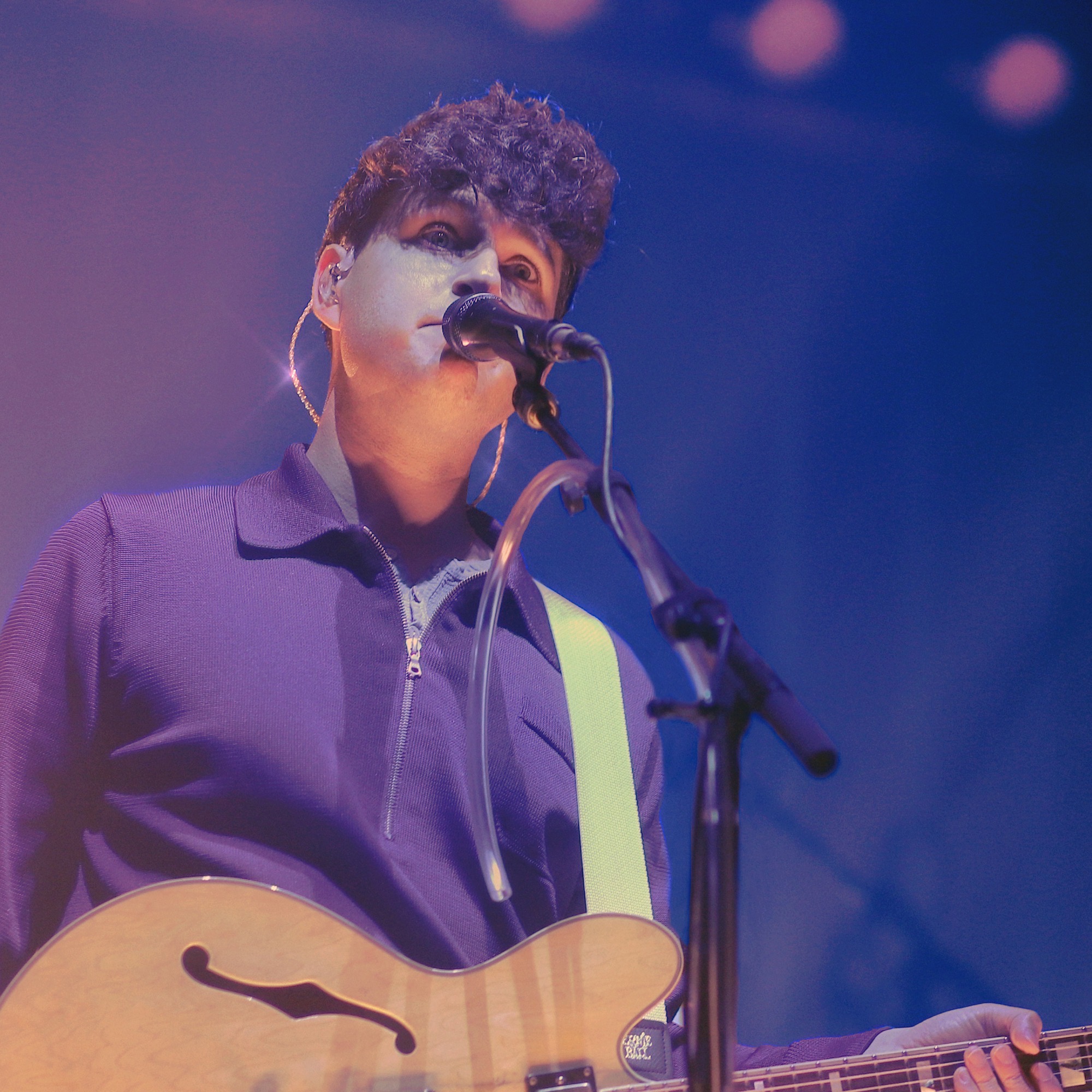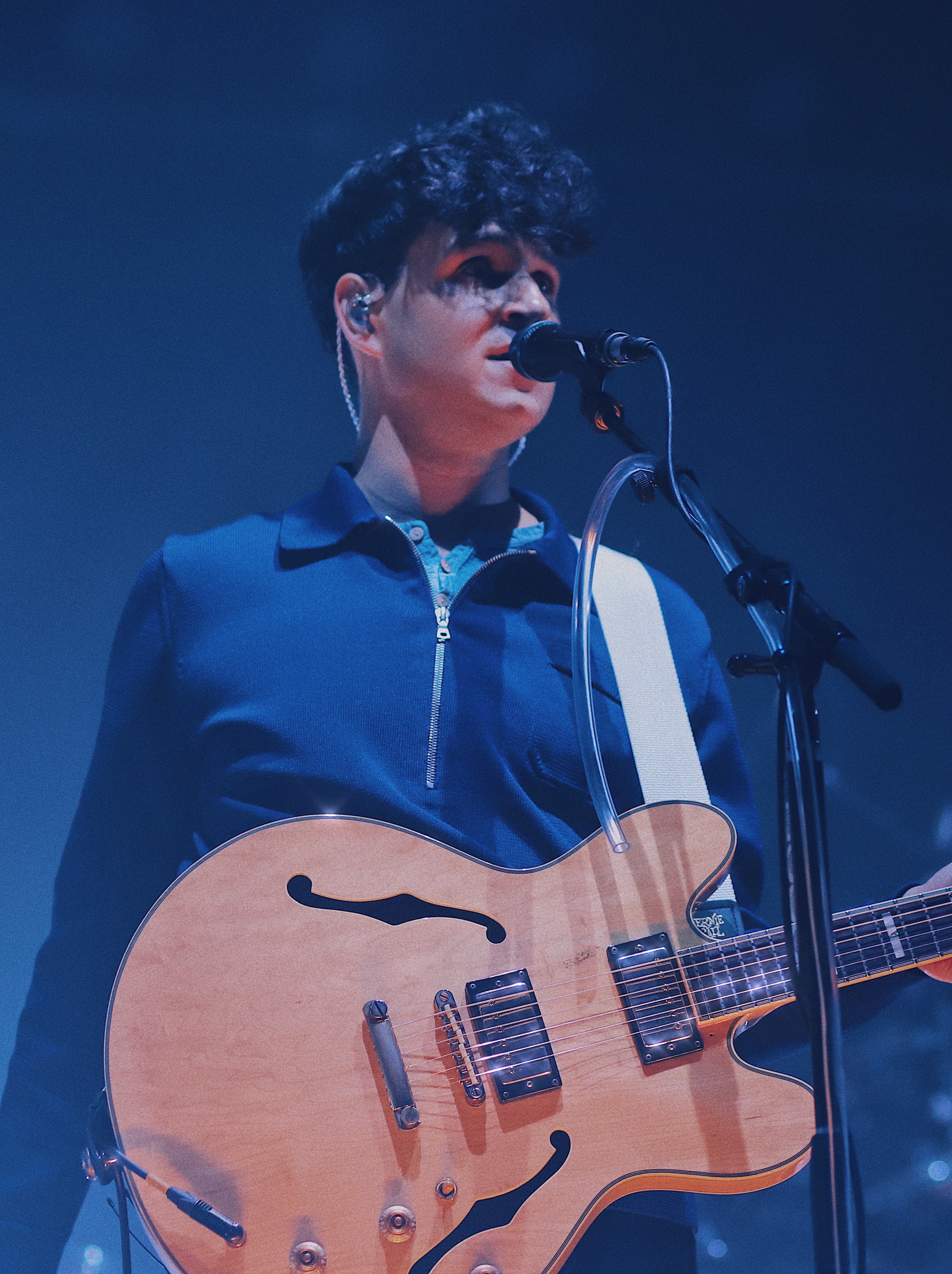 My Dad, like me, loves Vampire Weekend - but also thinks they're "really weird". I mean, he's not wrong - since 2006 the band have spiced up indie-rock as we know it with their own potpourri of eccentricity, pulling in elements from both poles: classical music, but also, throwing in samples as habitually as a beat maker would. Then, everything strange and experimental in between (think harpsichords), which makes them fundamentally... Vampire Weekend. "The basis of our band is not playing modern rock", lead singer Ezra told
NME
once. And they stick to that mission statement still - collaging afrobeat, ska, seventies folk, post-punk, acid jazz, reggae, and renaissance music onto an art-rock canvas.
My teenage years were spent listening to their self-titled and Contra, both of which have made themselves comfortable in my conscious over the last decade, so finally getting to see them live meant a lot. I first went to their intimate show at eartH, Hackney in March, and again at BBC's Big Weekend in May - one thing I learnt was that they always, always pull out the big guns for their setlists. But the interesting thing is that no two shows are the same. There's no 'standard' VW setlist that they play night after night. Some songs are a staple, obviously, but attending a gig of theirs is essentially like putting their catalogue on shuffle. Plus, they have a section for audience requests, which is pretty great (pro-tip: they favour the bucket-hatted).
I attended both Manchester gigs in November back-to-back, having established them as one of my favourite live bands in the last year. The atmosphere at their shows is so buoyant and feelgood that it's mesmeric. Everyone onstage is so obviously having a good time that by proxy, the audience does too. Chris Baio, for example, is one hell of a bassist, thrashing himself around as if he were in a metal band (their next venture into sound, maybe). Ezra also maintains his charisma as a frontman, occasionally bolstering his Sheraton by the neck to hold like a trophy, and somehow delivering his manifesto-length lyrics in all their verbosity. It's fun singing along, but when lyrics like "Saudi satellite dish", "Tokugawa smile", and "Mechanicsburg Anchorage and Dar es Salaam" are their norm, you can be forgiven for forgetting a few.
Another great thing about Vampire Weekend's live shows is their refusal to stick to the script, and the urgency to continue to push sonic boundaries. Songs are given genre-bending outros, as the seven-strong stage outfit metamorphise into a jam band - a faultless one, no insult intended. But the person responsible for carrying the live outfit is guitarist Brian Robert Jones. He is detrimental in their set, bringing a sunshiney, cosmic forefront in the form of East-Cost flavoured lead guitar. They play an 8-minute, stoner-rock version of 'Sunflower' (they call it Stoneflower, ha), slowing and accelerating artfully to shine a light on Jones' aptitude for shredding (and sh*t, he can shred), and allow for a psychedelic
duelling-guitars
moment with Koenig. Brian brings such stamina and vibrancy to the band, mainly in the form of his cool as hell custom
tie-dyes
that he usually sports onstage, and helps them collectively pack a real punch.
The shows weren't without its moments, specifically during the requests section. On one night, a pretty drunk girl asked them to cover 'White Sky'. Confused, Ezra let her down gently, reminding her they'd played it at the start of the set, but obliged as the band pulled together to play 30 seconds for her.
'A-Punk' was a predictable highlight, with Ezra stepping forward onto the edge of the stage, anticipating the reaction as he burst into that famous riff. The finale - 'Walcott' on night one, 'Ya Hey' on night two - ushered out VW's team, carrying gigantic, inflatable Earths. Seriously. The mad hilarity encircling the night persisted as they were tossed into the crowd, the cheeky Manc. crowd trying to bat them back, straight into the heads of the band.
Yeah, Vampire Weekend are pretty strange, but it doesn't make them any less charming, or their live shows anything short of spectacular. Their shows are a reminder that we're allowed to cut loose sometimes, and just have fun.
MORE:
FEATURE:


WHO IS PETALS FOR ARMOR?

---

An Instagram account has been posting (albeit, aesthetically pleasing) close-ups of flowers since October. But who is behind it? And why?